DBF1300
The Car
Cornering at 1.5G plus at Mt. Cotton Hillclimb in Brisbane, Queensland, Australia - the local hill of the MG Car Club.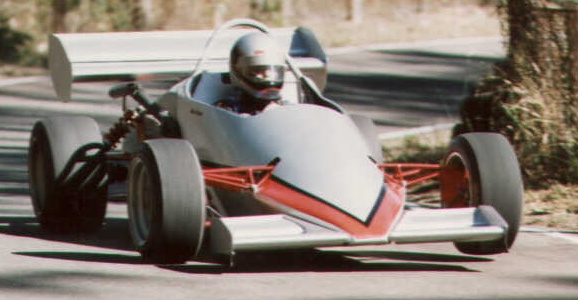 ---
History
1987 through 1989 saw three friends gathering one night per week and at least one day each weekend, to discuss, design and build the DBF1300. The three comprised John Davies, the owner and driver, together with Denis Backhouse and Ian Fettes. The trio are shown from right to left in the photo below. All three contributed in numerous ways to the final outcome. The car's name derives from their surname initial letters and the capacity class in which the car runs.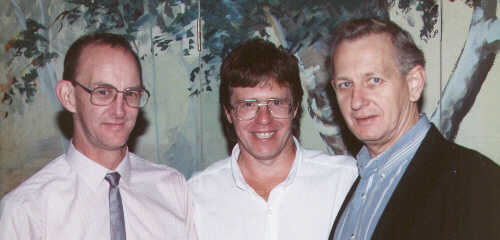 The following factors were of primary concern to the trio, and many hours were spent weighting the pros and cons of each before final decisions were made.
Use of a readily available and strong engine;
Light weight, but using materials that eased repairs if damaged;
Excellent handling based around the best tyres available and low unsprung weight;
Minimum cost using fabrication rather than purchase of many components.
Very few teething problems occurred with the constructional aspects of the car, and within a couple of years of its inauguration, it became a winner. Initial problems were experienced in the fuel delivery system, the standard carburetters not being up to the cornering forces. With fuel injection fitted the problems went away.
The car then quickly gained a reputation as a giant killer, for it is very competitive outside its class. It has been very successful pitted against professionally built 5 litre V8 open wheel racing/hillclimb cars.
---
Specification
The technical details of the car are as follows:-
| | |
| --- | --- |
| Engine | Suzuki EFE 1100, fitted with big bore kit to yield 1265 cc. Haltech fuel injection used with Aviation gasoline. Alternator removed to permit free revving of engine to 12,000 rpm. Suzuki 750R cylinder head fitted and compression ratio adjusted to 12:1 with appropriate piston style. Crankshaft welded. |
| Clutch/Gearbox | Standard Suzuki gearbox with strengthened clutch. |
| Starter | External electric starter used with direct drive to crankshaft. Gear reduction starter motor adapted from Toyota Dyna truck starter. |
| Final Drive | Chain drive from gearbox to offset fabricated open differential using gear components from Datsun 1600. |
| Driveshafts | Adapted from Volkswagen Kombi, one full length, one shortened. |
| Frame | Arc and gas welded space frame chassis using normal steel tubing. Incorporates rollover protection and strengthened drivers compartment. |
| Body | Removable home built fibreglass/Kevlar body, side panels and engine cover. |
| Aerodynamics | Home built aluminium and fibreglass wings front and rear, designed for optimum low speed behaviour. |
| Brakes | Rear - inboard motorcyle discs. Front - outboard motorcycle discs. Master cylinders adapted from Land Rover clutch cylinders. |
| Wheels | Spun aluminium rims on aluminium centres. Front - 13 x 8 inch. Rear - 13 x 11 inch. |
| Tyres | Avon slicks. Front - 13 x 7.2 inch. Rear 13 x 10 inch. |
| Steering | Fabricated rack and pinion, one turn lock to lock. |
| Suspension | Front - independent with inboard rockers. Rear - independant outboard. Non-adjustable pivots fabricated from Delrin plastic, with Heim and spherical joints used elsewhere. No anti-roll bars. |
| Dampers | Sachs non-adjustable gas, carefully selected for balance with spring rates |
| Hubs | Rear - fabricated using Datsun 1600 bearing carrier and centres. Front - completely fabricated. |
| Race weight | 310 kg (684 lb) excluding driver |
---
Construction Details
Here are a few photos taken during construction of the car
| | |
| --- | --- |
| | This is a view showing the fabricated front hub assembly. The front mounted brake caliper is not visible as it is on the back side of the view. |
| | The driver's feet share the footwell with the inboard spring damper units in this view. The fabricated rack is also shown. |
| | In this rear view, the fabricated differential and its carrier are seen, together with the brakes and shortened left driveshaft. |
---
Results
In addition to a number of successes within its class in local Club competition, its results obtaining in major outright open competitions have been:-
Australian Hillclimb Championship 1992
Queensland Hillclimb Championship 1993
Queensland Hillclimb Championship 1994
Australian Hillclimb Championship 1995
Queensland Hillclimb Championship 1995
While not the first car to use a motorcycle engine in this way, its success has certainly engendered a number of similarly competitive vehicles.
---
The Planned Future
John believes strongly in the home-grown approach to motor racing, and the hill climbing sport allows freedom in design coupled with financial economy. Professional motor racing is just that!

A number of innovative concepts are presently brewing, and the next few years may see another car emerge. Watch this space.

---
The Actual Future
Despite good intentions, John never managed to develop another car, and sadly, he passed away in July 2012, followed in August 2013 by friend Denis.

The DBF was then taken over by Neil Lewis, who made it fully operational again and rebuilt the engine with a different ECU yielding a better power spread. A further change was made to modernise the tyres.

These changes allowed Neil to obtain his best time in September 2014 at the Mount Cotton Hillclimb of 39.40 seconds, bettering John's best time of 39.50 recorded back in June 1995, some 19 years earlier!

Neil now plans to store the car for historic purposes and bring it out on special occasions.

| | |
| --- | --- |
| | This photo from Steve Johns shows Neil in recent action at the Mount Cotton Hillclimb. |
| | |
| --- | --- |
| Revised on 3 December 2014 | Copyright © Ian D Fettes 1997, 1998, 2000 |